Forestry Education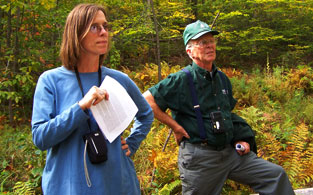 In tough economic times, landowners can be vulnerable to allowing high grading, the practice of taking high value trees and leaving only low value trees. In this scenario, a landowner may not generate income from their forests for 100 years or more.

With careful planning and the assistance of a qualified consulting forester, landowners can improve woodlots to improve wildlife, forest health and generate income from their land every 10 to 20 years. The HMRC&D Council sponsors workshops and woods walks in conjunction with Cornell Cooperative Extension's Agroforestry Resource Center and the NY Forest Owner's Association to educate landowners about enhancing the value of their forests.

For guidance on how land owners can select a qualified consulting forester, please download the fact sheet under Resources. If you would like a woods walk in your area, please email info@hudsonmohawkrcd.org.