About the Council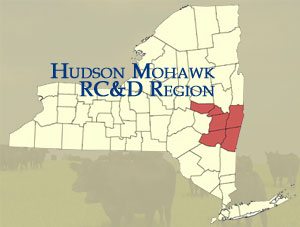 The Hudson Mohawk Resource Conservation and Development Council is a 501 (c) 3 non-profit organization that promotes regional, economic and natural resource conservation development in Albany, Columbia, Greene, Schenectady, and Rensselaer Counties in Eastern New York. Projects have included a livestock processing and marketing initiative to help small farmers, a venison donation program, a farm to school program, the education of livestock and horse owners on grazing, increasing rural fire protection, exploring alternative energy and biofuel resources, the installation of dry hydrants, promoting pastured poultry, and a tourism project highlighting Hudson River lighthouses.

The original sponsors of the Hudson Mohawk RC&D Council, Inc. were the Soil and Water Conservation Districts and County Legislature from the six counties. The Council was formed in 1992 and approved by the US Department of Agriculture on October 10, 1996. The Council received its 501(c) 3 non-profit designation from the Internal Revenue Service and was incorporated in the State of New York on March 19, 1998.

The governing body of the Hudson Mohawk RC&D Council is the volunteer membership. The Executive Board consists of 5 members that carry on the day to day operations of the Council. The full council consists of a total of 18 members. One member is suggested by the County Legislatures/Board of Supervisors, one from the local Soil and Water Conservation District (SWCD). A member at large for each of the six counties may be elected by a simple majority of the Council members.

Technical and financial support for projects comes from a variety of public and private sources.